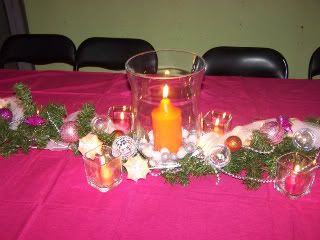 For the last two years, a group of ten of us have had a craft swap for Christmas. You make nine of your craft ... you know, like a cookie swap. The gifts range from pickles & jellies to sewn items to cards to wall hangings, tree ornaments, organizers, birthday books, jewelry, candle holders, wrapping accessories ... you name it. Amazingly, every craft is completely different. And so beautiful ! The nicest thing is that each person really cares about what they make and wants so much for everyone to like it. It seems to really be what Christmas should be ... a gathering of friends sharing homemade heartfelt gifts. Perfect !!
The evening is fun ... we eat, we chat, we laugh, and then we take turns passing out our crafted gifts. And each one brings "oohs" and "aahs" and lots of questions about "how it's made". Because each person is a crafter there is such an appreciation for the work and techniques. It is an inspiring thing !!
This year we had the swap at the store ... I didn't want to decorate at home this year ! So I cleaned up the spare room at the store and set up the table. I needed a tablecloth because the table is 4'x8'... none of mine fit. I found one that fit ... perfectly ...a nice burgundy ... nice traditional burgundy ... perfect size. I carried it around the store for a long time ... something wasn't right ... nice traditional burgundy ... THAT WAS IT !!! All my decorations are bright aqua, lime green, orange, fuchsia, etc ... I just can't seem to get into a traditional scheme.It looks beautiful ... when other people do it ! So I found 2 raspberry coloured cloths that would cover the table and I felt right again ! Can't step away from the brights I guess !!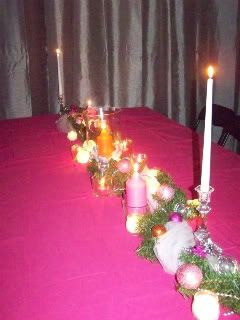 Here are the crafts I made ... Holiday Planners ...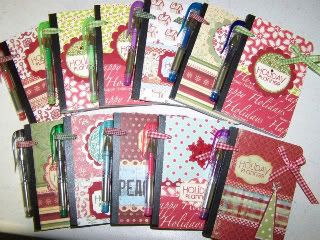 and S'More Kits to make in the oven. Just a fun little add on !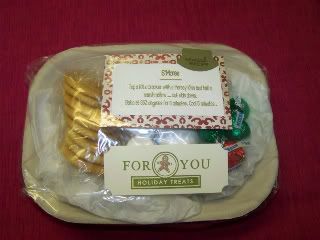 This year we had mustard pickles and raspberry jam (can't wait to try those !), a lovely clear ball filled with snowy little branches and berries + cookies, an exquisite mini star book ornament, an amazing Stickled candle holder that took HOURS to Stickle & ornament & zipper pull, a wonderful Birthday organizer (oh I hope it helps me !!),a sweet fleecy little hand stitched vintage stocking, beautiful homemade bows and tags, and a fab card holder. See for yourself !! Isn't the variety amazing ?!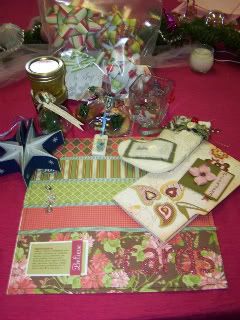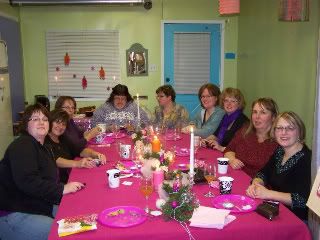 ... this was probably the 8th group picture ... our "official photographer" Charlie took pictures with everyone's cameras ...
Anyway, it was a great night. Today I am happily admiring all the great gifts and munching on leftovers ... today I will live on dips and Christmas goodies ... and life will be good !
So ... it is just 10 days to Christmas ...we went shopping last weekend and did pretty well ... just a few more things to buy for my family .I have some caramel corn to make, seasoning mixes,some more S'more Kits, a few things like that ... but no big deal. Our house is a kitten disaster ... okay, people disaster too ... we share the blame too !! But I am not decorating so we are just rolling with it ... who cares ?! So now everything seems easy for the holidays ... just delivering some gifts, making a few homemade treats, eating with family, visiting, seeing our newly engaged niece freshly home from Norway, all fun and relaxing. Christmas is really - for many of us - just 2 days so why do a month's prep for it ?? Relax ... chill out ... decide what's important ... and HAVE FUN !!!
Have a great week !!!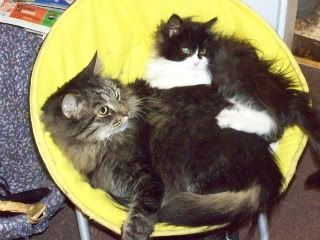 Here's a little update photo of Dillee ... why did we worry about how she would make out with the other cats ?? Really ... how will THEY make out ??