Time to catch up !!! Here are a few things tickling my fancy these days ...1. Just finished reading "Knit Two" by Kate Jacobs ... nice to catch up with the gang from the Friday Night Knitting Club ! Now I am on to Wally Lamb's "Wishin' and Hopin". So far it's good ... reminds me of my childhood ... actually it would be EXACTLY like my childhood if I was 10 years older, Catholic, if my Dad ran a lunch counter at the bus depot, if I had sisters, and ... oh yeah, if I were a boy. So it's close ....2. Magazine Recycling ... I have been bringing stacks of them in here for anyone to take and enjoy ... okay some may be missing a recipe but most are "original condition" ... anyway, it makes me feel good to see them out of my blue bag and off to another home ! Pass it on !3. TOTE ADDICTION ... I think I have it. Is there a 12 step program ? I have bought 20+ different totes and several shelves and rolling carts in the last 2 weeks. I have put stuff in ONE of them. I just enjoy the IDEA of being organized ...4. ZIGZAG stitch ... I have been using my new sewing machine and really enjoying it. Those are two words ( ENJOY + SEWING MACHINE) ... I know ...3 ...that I have never said together before !! Anyway, so far just on paper but I have another project up my sleeve ... I have been fusing plastic bags together to make a fabric and the day is coming when that very fabric will become tote bags ... or gift bags ... or aprons ... but probably not pants.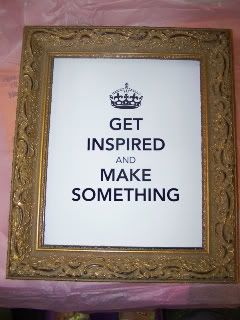 5. STELLA and her FAB prints !!! I bought this print from http://www.stellagirl.etsy.com/ and I LOVE IT !!! And then she sent me some great gifts too so now I also LOVE HER !!! Check her out and buy something for yourself ... go on ... you'll be sooooo happy !(p.s. ... do you know the story behind the "Keep Calm and Carry On" ? I love the posters - got one of those from Stella too. It was printed , I believe, in 1939 ( date may be off ...) in Britain to be used during the war to keep people calm and have life carry on. The posters were never used and were only recently discovered. They have become a real phenomenon and the jumping off point for all sorts of great slogans. I saw some products at Chapters this weekend that said "Keep Calm and Eat a Cupcake" ... 2 of my fave things combined !!! Wish now that I had bought one ... next time !!)6. GLASS TILES !!! Just received a HUGE box of tiles of all shapes and sizes ... I will have necklaces and pendants for sale soon that I will make with them but I will also be selling just the pendants so you can make your own !! And ... hopefully ... the gorgeous Japanese paper to use with them . Soon, my friends, soon.7. Miniature Wrinkle Dog ... yes, really ! One of Charlie's customers had her puppy in last week ... so cute !! Like a hairy little brindle accordion !! She will only be about 30lbs full grown. SWEET !8. Music ... loving Down with Webster ( Canadian !!), the new Hedley CD (especially The Sweater Song), and Justin Timberlake's version of Leonard Cohen's Hallelujah ... only the best song ever written. And written by a poetic genius ... Anyway, you can download it from iTunes for the Haitian Relief effort. Awesome song, awesome cause .9. Somerset Studio Magazines ... my CRACK !!! I even have an enabler at the book store who lets me know when they have come in. I start jonesing for them as soon as I know they are there . DROOL DROOL ...10. The new paper lines from PINK PAISLEE ... can't wait !!11. Jelly Belly Jelly Beans ... I have a big bag of them and every night I take a little pile and slooooooooooooowly eat them. But I have to guess the flavour before the next one. I offered some to Charlie but said he HAD to eat them one at a time. He "handfuls" them. That's just a waste. He refused my offer. Whatever. Anyway, they are so yummy ... except the Caramel Apple ... tastes like meat. UGH!12. Collaged Canvases ... I have been painting, stamping, grunging, altering, decoupaging, ... to my hearts content !! It is so fun !! Next on tap ... a glass fusing kit and an awesome book on soldering ... always more projects and supplies than I have time for but there is always something new to look forward to and be inspired by !!13. A few randoms ... hand cream, skull & crossbones hubcaps ( gotta get me some of them !), Distress Embossing Ink, Claudine Helmuth paints, crispy grapes, pork stew. Anyway, that's been my week. Tonight I bake cookies for my C.A.P.S. fundraiser this week. Drop in for a Morning Glory Cookie with Cream Cheese Icing OR Chocolate Buttermilk Sheet Cake with Fudgy Pecan Icingand a coffee or tea ... for a $2 donation to CAPS. Let's help those wonderful people with all their hard work !!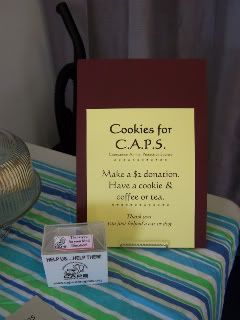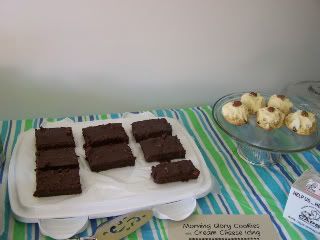 HAVE A GREAT WEEK !!!P.S. Here's a great coleslaw recipe ... maybe your old recipe needs a makeover ... a ZIPPY little make over !In a bowl , whisk together ... a SQUIRT of yellow regular mustard (I would say about 3T), a few spoonfuls of green relish ( like for hotdogs), a good splash of rice wine vinegar, a sprinkle of sugar or squirt of honey , and then whisk in some canola oil ... you'll know when it's enough to be a nice dressing consistency. Taste it then add coarse salt and freshly ground pepper. Add more sugar if needed. Then toss with whatever you usually put in your coleslaw ... cabbage, carrots, red pepper slivers, etc... Really good !! Zippy but sweet !!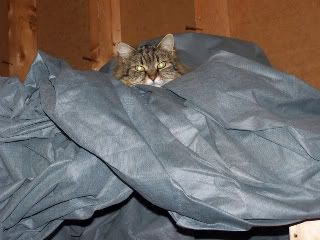 Here's Nellie , Charlie's feed store cat, hiding in my store ... this is about 7 feet up !!!