Not much new, I'm afraid ... it's been TOO HOT to be out there creating adventure & controversy. But here's a few snaps of the last few days ...
we had to take Emma to the Vet last week for a limpy leg ... now, she weighs about 20lbs and isn't keen on new places ... I had her at the store & she disappeared ... WHERE ARE YOU EMMA ????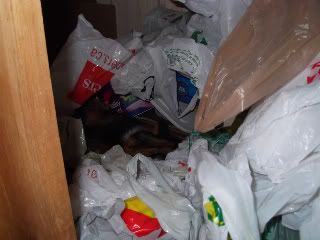 Here I am !!!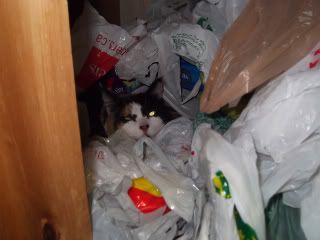 hidden in a cupboard of plastic bags !!
Now what was DILLEE doing at home while Miss Emma LouLou was at the Vet ?
Just chillin' thanks !!!
Then our next big event was a NEW BED !!!
Emma had to check it out ...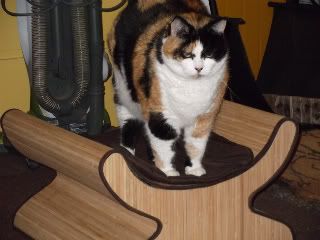 Hmmm ... stomp around, check it all out ...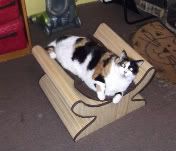 Yep, it's good !!!
How about a second opinion ...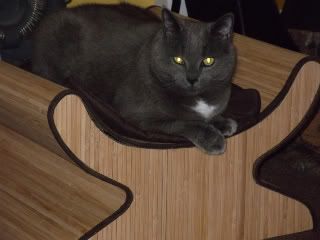 Earl says "TWO PAWS UP !"
By now they have all had a turn on it and I see more of the Cleopatra beds in our future !!
And, on a totally different note, this is my funnel ... I love it !!!
I just realized the other night how much I like it so I snapped a photo. I bought it in Toronto several years ago and it is just like Bob Blummer's when he had the Toastermobile. Cool huh ?!!
And here's our latest adventure ... a new travel trailer !!!
No, a DUMPSTER !!! I LOVE LOVE LOVE having a dumpster ... very therapeutic ... a big ol' clean up is coming and I am pumped !!! It just needs to get a bit cooler ... and my ANNOYING COLD needs to disappear !!
And lastly ... look what I saw from my front step last night ... I LOVE WHERE I LIVE !!!
Have a great weekend !!!