I am NOT A MINIMALIST.
I LOVE STUFF.
*** A few years ago we did address the issue of hoarding ... let's just say it involved renting - and filling - a dumpster. AND discovering AMAZING things that had been squirreled away. It did show me the importance of a tiny bit of restraint and more organization but it did not squelch my love of stuff ... nothing could do that, I'm sure !! ***
So this year I am going to share from time to time some photos of my favourite things ... and there are many !!
In honour of the New Year ... fresh start, clean page , standing on the precipice of the sparkling New Year ready to dive in ... I have these faves for you !!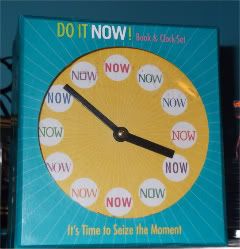 This is my clock in my workroom. I ADORE it ! It makes me smile every time I look at it !! I fully live by the concept ... DO IT NOW !!! Don't wait !
(Oh, I only apply this to fun stuff ... I can easily put off vaccuuming or other icky tasks... this may explain why I have lots of fun but a messy house ... but, really, who cares !!)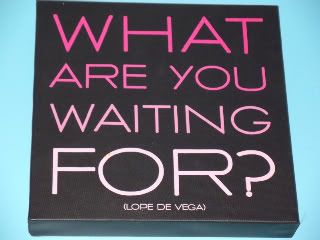 This hangs on the wall ... actually near the clock ... just in case I have a pang of responsible conscience ... a second opinion !!
And last but not least ...
My Damned Dollies !! I love these dolls. They are made by a girl in Toronto and I buy one each time I go to the One of a Kind Craft Fair. They are so fun ... and saucy !! I love their rebellious nature . How fun is a doll with an eye patch and a knife ?! I gave them a CN Tower so they wouldn't get homesick ...
Have a great week !!