EDIT : okay, the swelling has gone down, only a few marks left, arms feel good (just don't squeeze !) and the Benadryl has kicked in. The snow is gorgeous and the sun is magnificent. I am ready to have a GREAT day !!! I think my crappy attitude may be fading ....fading .... fading ...
Yep, it's true ... the last few weeks have been much like the last post. More treatments, more reactions, more hives, more misery (how's that for drama ?!) . And that is all I am saying about that. Next week I will have a whole new perspective on things and something cheerful to blog about !! ( I am looking for an adventure to embark on - just for material for the blog , you know !!)
Here are a few reasons why I don't get as much done as I sometimes hope for ... apparently the best beds in town are on paper & stamps or on the paper cutter. Comfy & blissful !!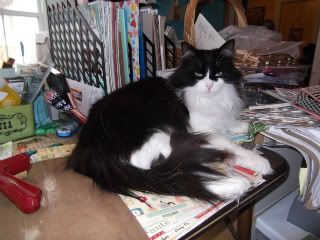 Hope you have that cozy kind of week !! I'm off to work on my crappy attititude !! ;)