I'm taking "the road not taken" ... I have decided to make a turn and change direction with my blog. I want to share my work on the blog ... with the odd cat photo or recipe rave.I have a wonderful new workroom and love to spend time in it CREATING !! Most of the time, it is creating kits & samples for work but there are a few wee hours when I do stuff just for me - and those are my absolute happy hours !! Last night it was from 10:30 to 1:30am ... I could hardly go to bed , I was so excited !! Anyway, here is my project that I completed last night ...
A happy little Christy Tomlinson-inspired collage inspired by a fortune from a Chinese dinner ... see, way down in the lower corner ...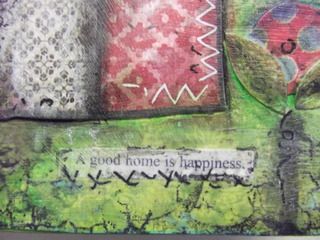 It was such fun !! Here's one from a few weeks ago ... also inpired by Christy Tomlinson, using texture paste. Again, fun beyond measure !!
So that's all for today but keep watching ...