(that is the sound of a butt in gear ...)
Yes !! Finally !!! The holidays is a time of such ... well... sloth. Too much food, bad food, too much wearing of the pyjama pants, visiting, not working as much, visiting more, eating again, drinking, eating ... SLOTH !! And it is a hard pit to get out of ... hard to get the old "butt in gear". But I have !!
This week has been about being productive ... and digging it ! It's been about cooking ... homemade soup, cheesy biscuits, pasta with chicken/bacon/boursin cheese (yum), salads, ... all good cooked meals.
(well ... er ... except for the cardiac canape recipe at the end of the post ...oops ...)
I have tidied up (a bit ...)
(that may be a direct result of watching "Hoarders" ... I am but one depressing incident away ...)

.
Totes have been purchased to stow all the Hallowe'en stuff, Christmas presents have been put away, baskets have been found to hold all the DVD-VCR-Wii stuff. Things are looking up. I have organized my beading supplies, made plans and ordered supplies. A rolling kitchen island has been added to the kitchen and a cookbook shelf is on its way. I have kicked my old ornery sewing machine in the ass and have bought a new one - I am tired of fighting with that miserable machine !! I am feeling good about all this !!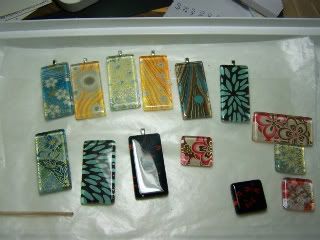 I spent yesterday making glass tile pendants and covering note books ... 27 of them actually !!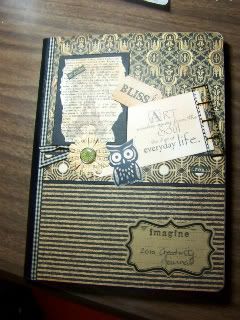 I made a Creativity Journal and plan to keep track of what I make & do ... and I hope to do it most days ! So far, so good !!
I also planned out my "Cookies that Care " campaign ... the last weekend of each month looks like the perfect time. This month will be either Giant Morning Glory Cookies with Cream Cheese Icing or Red Velvet Whoopie Pies. I need to do a test run on the Whoopies first. Then I'll decide.
So things are humming along and I am thrilled !!
oh ... this is really REALLY a sloth thing ... but delish !!! ( Believe me - it is !) But you feel like maybe you should have a cardiologist on speed dial or be sitting by the trailer with Julian & Bubbles when you eat it ... everyone that I have talked into trying them or making them though agrees ... delish !! You take one pkg of weiners, cut them in quarters. Take a package of bacon and cut the slices in thirds. Wrap each little weinie with a bacon piece. Pack them into a baking dish, sprinkle with 1 cup of brown sugar and bake for 1 hour at 350. Then eat. Shhh ... listen ... do you hear that ? CHOLESTEROL RISING !! But you will get this dumb happy but guilty look on your face and your hand will sneak over repeatedly to the dish ... If you want to be fancy, pass the toothpicks !!! DO NOT EAT THESE on a regular basis ... I am sure they could kill you !!!