Wow ... the holidays kill me ... I never know what day it is or whether I am supposed to be going to work ... I eat too much junk and I hate all the reruns on TV(those 24 hour "Holmes on Homes" marathons are TOOOOO much !!). So I am always so happy to be back to the so-called normal life ! Bring it on !!!
Christmas was nice ... we frantically wrapped all the gifts for family on Christmas eve, then shoved our presents for each other back in the shopping bags and pretended they were wrapped ... worked for me ... (I hate wrapping !!) So it was a WONDERFUL HalloWIIn Christmas at our house... a new Wii that we are loving and lots of great "Halowe'enie" style gifts. AWESOME!!!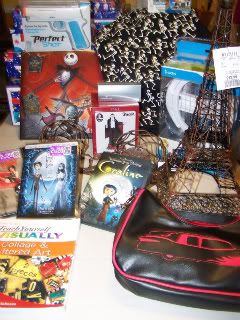 (hmmm ... not only did we not wrap them Charlie apparently left the tags on ... maybe to simulate gift tags ...)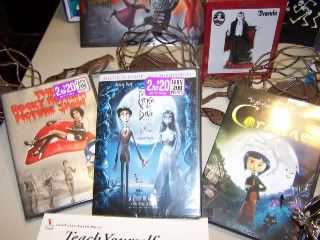 Some AWESOME movies !!! "Coraline" is one of my ultimate favourites ... it is sooo beautiful (the animation) ... the opening credits are gorgeous and I could (and WILL) watch them over & over. And this time it will be in 3D !!!! And who can resist "The Rocky Horror Picture Show" ???
"Let's do the time warp again ...."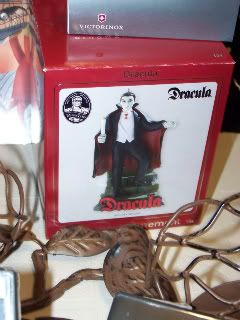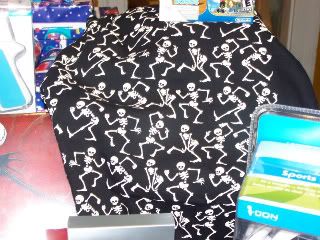 I even scored some cool things for Charlie ... a skull rear view mirror for the hearse, a Dracula tree ornament that TALKS, and a GLOW-in-the-DARK skeleton shirt !!!
And , yes, my friends, that IS what you think it is ... my MOST FAVOURITE thing ... A HEARSE PURSE !!!!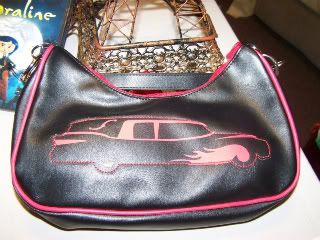 How amazing is that ???!!!!
And then our Wii ... I am pretty much a pro bowler now and a tennis ace ... not to mention an amazing canoe-er. I have never "canoed a boat" before so I am pretty happy with all the records I am SHATTERING !!!! I may go pro ... (except for my very sore arms and shoulders ...) I am worried though that I may become really BUFF from the waist up ... and still have the same legs ... Scary thought !!!
New year's Eve was quiet ... we went to Charlie's step mom's and spent the evening with her ... eating cheese, drinking wine, and having a great chat. Nice way to end the year !! We started the New Year with a funeral ... not the best way to start off but it happens. The funeral was on the Saturday of the snow storm ... we had quite a trek to the graveyard and a horrendous trip home.I was REALLY happy to see our house !!!
Now it is back to normal ... no resolutions ... I don't really believe in them ... no word to "theme" my upcoming year ... don't believe in that either. I just want to do the best I can for myself and those I love. Period. And by doing that,the year should be just fine !!
Hope to hear from you or see you soon !!!
P.S. Here are a few "Dilly Updates" ...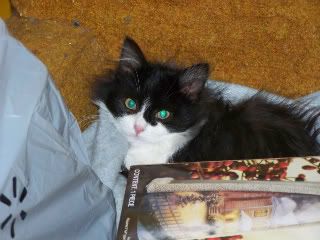 The baby we call "Dilly"
Dilly hanging with some of the big cats.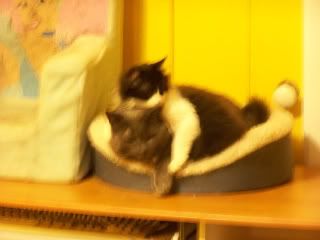 A bad picture but ... this is what Dilly does to poor Earl ... she climbs on him and uses him as a chew toy ... poor fella !!