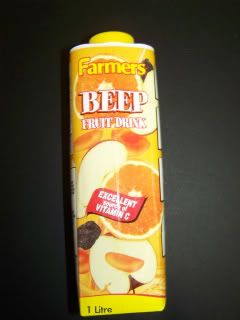 BEEP ... BEEP ... drink of the '80s.
The sad news came out last week that Farmers Dairy will no longer produce BEEP. Lack of demand. Nutritionists released statements saying they were relieved.Done.
Wellllllll ... let me tell you - I am SAD !!! BEEP is my childhood, an icon of my youth. I have spent the last week searching for BEEP , just to savour its sweet funny flavour one more time, to no avail. But today Charlie hit paydirt !! I am the proud sipper of a litre of Beep as well as a cute little baby BEEP. (Although my little BEEP used to be in a tiny milk carton.)
BEEP was JUICE when I was a kid ... now it is deemed to be almost TOXIC !! Not even allowed in schools !! ( can you believe that ??) It is an odd mix of apple, orange, apricot, and prune juice & concentrates but it is yummy ... and the second ingredient is sugar ... not sure if that has anything to do with the taste ...
Anyway, I am spending the day with a cup of BEEP at my side and spreading the joy that was BEEP. Everyone so far has said "I love BEEP !" and the memories of school lunches start bubbling forth. It really is a great part of our growing up ... and I think we grew up okay !!
So as the '80s start to become extinct (much like unicorns ...) we need to pay tribute. Tell me your BEEP stories. BEEP if you love BEEP. Search your local stores, buy a BEEP and raise a glass. Here's to BEEP and that innocent childhood we had !! BEEP BEEP BEEP
(what's next ? Munchos ?)