The time has been flying by and I have been happily puttering away in my craft room ... the 31 Day Challenge has been great for me. Many nights I haven't REALLY been keen on making anything but I have dragged myself to the table (usually after 10pm !!) and started something. And it's BEEN GREAT !!! (My baking frequency has suffered a bit but we can probably stand that !!) I love the time I spend creating and it seems like I have given myself a great gift. I have decided that when the month is over I am starting on a
YEAR LONG CHALLENGE.
Yep, a year. My challenge will be to create 5 days a week and keep a diary of it. I have really enjoyed the time and the process so much that I want to keep going. And, it is a bit of a habit now !
Here are some of the projects from the last few days. They are samples for the store as well as items that I will be selling in the store and in my ETSY shop. My next ETSY items will be jewelry...
Hope you enjoy the pictures and are inspired to make something yourself.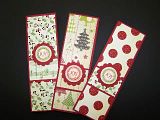 NOTEPADS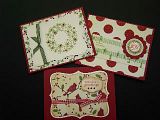 CHRISTMAS CARDS
Have a great week !!!