A hard
frost
this morning ... even some frost in PG which is really strange for us. Winter is coming !! Fine with me except for ... SOCKS !! My feet feel like they are being smothered ... so I will hold out until it snows ...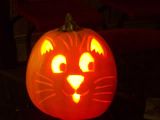 PUMPKIN PARTY
... we had our annual Pumpkin Carving party last weekend. There were about 40 people there ... we have moved it to the local hall because our house cannot contain all the carvers anymore. People showed up with great potluck dishes, pumpkins, and
plans for those pumpkins !!
The carvings were great and they looked fabulous all lit up. We ate, we gutted, we carved, we ate some more, we voted, medals were awarded, and challenges were offered up for next year !!
Our beautiful cake by Sara Bates ...
Deedee's UGLY GRANDCHILD ... hope you do better Ryan !! But a crowd pleaser as you can see by the medals ...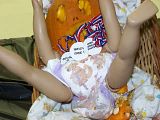 NEXT YEAR ...ARDITH VS STEPHEN in the POWER TOOL DIVISION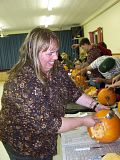 VS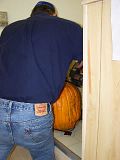 The
TRASH TALK
was (and I quote ... sort of ...) ... "You're not winning Best Use of Power Tools for the fourth year in a row, Inkpen ... I'll BE BACK !!"
I have been working on my
30 Day Challenge
... still going ! I haven't missed a day yet ... it's been hard some nights but I am on it !!
Tomorrow is
Hallowe'en
so we have added a back seat to the car and will be gathering up our usual Trick-or-Treaters ... but this year they will ride in style !!
Have a
BOOTIFUL WEEKEND !!!
P.S. A little shout out to Abby ... hope your treatments are going well and helping ! The Thursday Morning Laughers have missed you and asked about you !