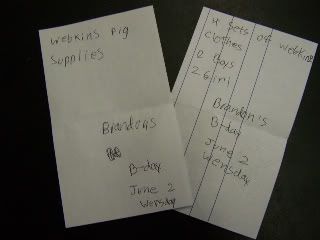 I'm not saying I want to actually be 8 but I love the honesty and straightforwardness. Say what you mean and mean what you say. Cool.
Last night we had an impromptu birthday party for a friend who just turned 15. Cake and fun ice cream flavours, a rousing game of Pictureka, and then cards and cash - he's a 15 year old boy - what else would you get ?? Anyway, fun time.
His younger brother's birthday is the next on the calendar. I asked if it was soon ..."TWO WEEKS AND TWO DAYS" was the answer. Nothing coy or vague. Here it is. Like that.
So then I asked what he wanted for that upcoming special day. Most people hem and haw, hedge a bit, maybe say"oh nothing". But really, they want something. We all do. But when you are eight, you say "There is only one thing I want. A weapon." WHAT ??? Okay, I misheard him. It was (
phew
) "a WEBKIN". "The pig." Turns out that he has a house built, complete with a calendar, a bed, a palm tree and sand, and a poster for said pig. I asked what if we bought him one and some one else did too ? Here is THE PERFECT answer. "Oh well I would have a family". Love that !
So he then informs me that he should write it down for me so I don't forget. (in my defence, I NEVER have, but I guess, when you are 8, all these old people might seem forgetful !!) So he did. And he added "supplies" underneath. That means craft supplies - something we usually give him as well. Guess he needs more !!
As we chatted about Webkins, I mentioned the clothes they wear and the on-line games. They were amazed that I knew this. Apparently it is supposed to be an elementary school secret ... Later in the evening, he told me that he remembered something else he wanted for his birthday. Clothes. For the pig. But he already has Tommy the Leopard and he was expecting a donkey and a wild pig from his mother's sister - not aunt mind you. So, he would need 4 sets of clothes, 2 for boys (leopard & pig) and 2 for girls (wild pig and donkey). Now I never would have known the gender so good thing it was explained !! Next, I am handed a second note with all the details. I am all set with my "birthday wishes documents". Now, don't get me wrong. This is not a spoiled child - he would never say anything if he didn't have his full list ticked off. This is a case of "I asked" and "he answered". And I love that. Of course you know what you want. Of course you are excited about your birthday. So spill it ... let it all out. Why can't we all be 8 ?!
So I guess tonight , we go shopping. I sure hope that the Pig is not a rare creature !!