Oh what a great ride it's been !! This week has been amazing !
Dinner Friday night with family in our standing Friday Night Date ... laughed so hard I thought I might need medical attention ... or a bathroom !!! (you know how it is ...)
We got up early & went to the Port George Jamboree Yard Sale before work on Saturday morning. GREAT IDEA !!! Look what I found !!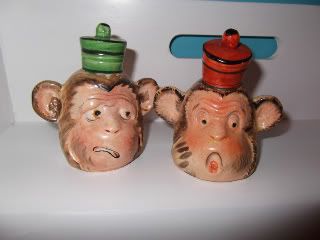 I LOVE monkeys and S&Ps ... so perfect find !!! Look at their funny expressions ... not your AVERAGE monkey S&Ps !!!
I found this from the same man ... all there, no chips, wonderful. Not that chips usually stop me ... if I love it I don't care if there are chips. I figure we all get a little chipped by life and people still love us !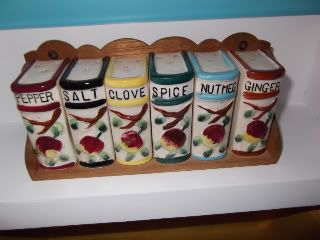 And then these little SPRITES !!! They just make you happy !!! Love them !!
After work we headed off to New Minas for a reason I can no longer remember ... it doesn't matter though because LOOK WHAT I FOUND !!!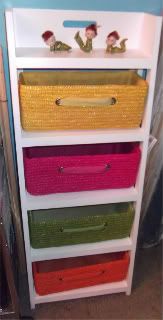 I love it !! I put it right in my work room (in the last few remaining inches of space ...!!) and it is perfection !!!
Then Sunday we decided to have a family picnic supper before the guys went haying. I was making sandwiches & Whoopie Pies when the phone rang. Someone asked for me ... actually a VERY FAMILIAR voice asked for me ... OH MY GOD ... it was my dearest university friend that I haven't seen or talked with for 25 years !!! I plopped right down in a chair in shock & talked & talked & talked & talked ... and forgot all about the sandwiches I was making ... ( sorry guys if they were a bit dry ...). It was the most wonderful thing !!! I lost track of her after I graduated. The last time I saw her was at our wedding. A few years ago I saw her brother's obituary in the paper and an email for condolences. I sent a note to her but never heard back. Turns out the email link to me hadn't worked ! She had 411'ed me but no luck. So since she was in the province, she checked the phone books. I was thrilled !!! Afterwards, I realized that every story I have ever told about university includes Katherine. She was such a fun and fantastic friend ... I am so lucky to be back in touch with her !! HALLELUJAH !!!
Then I found a friend from high school that I so admired and always enjoyed on facebook. Reconnected there too !!! Wonderful again !!
And ... sweet friends come in threes ... my wonderful "half of my life" pal has arrived in Nova Scotia and we will soon have our annual visit. Super !!!
Hmmm ... what else ... weeded my amazing garden .. ready to pick lettuces & watercress, broccoli rabe is almost ready , and the eggplants have purple flowers on them. Rockin' the veg world !! WOOT WOOT !!
I started working on my Twelve Weeks of Christmas Kit Series for the store ... sat in my lovely room, with my lovely cats, glancing at my FAB new shelf and those sweet little sprites, sipping tea, and I CREATED my brains out. It was FABULOUS !!! Can't wait for next week.
I also drove this week ... shocking if you know me ...
We have also been at CAPS drywalling ... finished the ceiling in the main part and stood up a wall last night. Exciting !!! I say "we" but I usually just hold things, hand things, help lift things, and ask (too many) questions ... "Why?" "Why do you put that there ?" ... a girl's gotta learn !! BUT, last night I got to NAIL !!! Just once but I was PUMPED. I have to admit I took about 20 poundings to get it in but I let out a big old WAHOO and arm pumped after ... it was AWESOME !!!!
Anyway, the thunder is scaring the POOP out of me, So I have to go !!
Enjoy the week and ROCK WHATEVER YOU ARE DOING !!!