Wahoo !! The tree is gone, the debris is packed up, the season has WRAPPED !! And MY GROOVE IS BACK !!! YIPPEE!!! I sat down and CRAFTED yesterday ... and planned and dreamed what else I am going to do ... OH YAY !!
I did have a wee stumbling block though ... I decided to assemble my SU stamps - all tiny letters and numbers - a backward upside down 22 is a perplexing thing . So is a lower case "a". So is just about any number or letter. Let me just say that I love the letter "O" - it is perfect !! Anyway, I ended up LICKING the rubber stamps (yum!) because I was too lazy to use ink and then have to clean them. So I would lick each stamp, stamp it, and then be able to know if it was right side up or not. Geez ... who knew THAT would be so hard !! So after an afternoon of snacking on liquid rubber, I had a full calendar set & was able to start MAKING STUFF !!!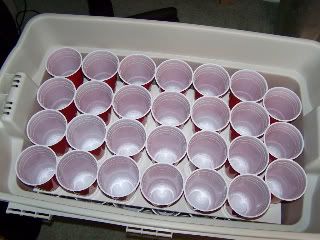 I have a few pix of the project that jump started it all for me. This is the AMAZING storage project I did. It is a sheet of foamcore cut to fit a tote. Then I glued beer cups - festive ones ! - to it. I did another slightly larger for the next layer.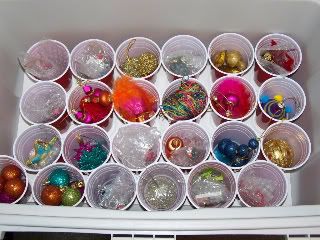 All the ornaments drop into the cups & are completely protected. AWESOME !!
Tonight I have MORE crafting lined up and I am going to try a wire & crystal crochet design that I was shown in Toronto . Don't know how to crochet ... but that shouldn't be a problem ! I'll let you know how it goes. Have a wonderful INSPIRED day !!
P.S. I have come up with a few plans for my year ... The Year of (self)Challenge !!