Hello !
This is my latest project. I have made a divider for each month, each with a calendar. Then I have pages to add for the month where I add photos, jot notes, mark days or happenings on the calendar, etc... At the end of the year, I will bind it together and have a little book for 2009 !! I am excited !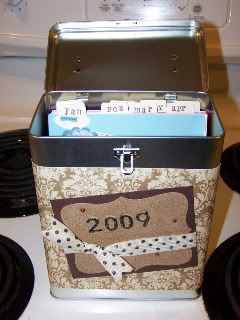 Here are the first few pages.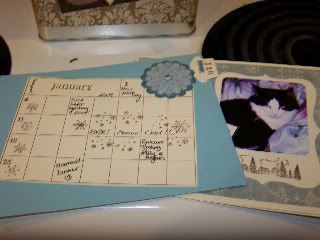 And now ... here are a few of the things that I LOVE RIGHT NOW !!!
* 1. The Decorating Adventures of Ambrose Price. And what about Ambrose - totally adorable !! I want him to be my friend & I could go on his adventures with him !!!
* 2. golden delicious apples ...mmmm
* 3. my FAB new scarf that Dave made me. LOVE IT !!!
* 4. drains that are thawed. You should love yours just on principle.Love them without knowing what it is like to have them frozen. Just take my word for it.
* 5. orange mulling spice in my tea. Not every cup. Just the odd one to make it special & different. Just like me ... hahahah!!
* 6. Flat back crystals ... ALWAYS !!
* 7. crocheting with wire ... well maybe this - SUCCESS crocheting with wire !!
* 8. my Belgian waffle maker. Mmhmm. Once I figured out what 180 degrees was. Seemed like every time I turned it MY 180 degrees, all the batter poured out. Turns out, 180 degrees is bigger than I thought !
* 9. and, well, just because ... BACON