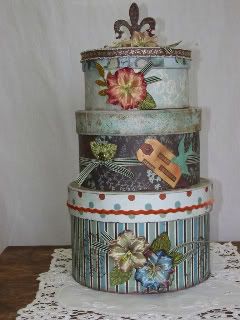 Okay... I am not one for false modesty. The truth ? I am often delighted with myself and the things I make. I know ... that sounds bad. But it is true, maybe childish, but true. I REALLY like most of the stuff I make ... and if I don't, then I keep at it until I do ... or it disappears ... ( like the HIDEOUS elf I made one year that looked like he had some kind of drug induced birth defect ...GONE !!) SO this is my yesterdays creation ... I loved it so much, I had to keep going into the craft room to look at it - and smile. So happy with myself ... ( oh, the things a therapist could tell me ...) But I DO love it !
I used all kinds of stuff but most importantly was the paper ... ohhh... so pretty. It is a package from My Mind's Eye called Bella Bella French Flea Market. I only used about half of the paper. I still have several sheets as well as die cuts left ...hmmm .... what to make ...
I inked, masked, crystalled, stamped, distressed, Glimmer Misted ... oh, SO FUN !!
I plan to do a bright funky set now with Bo Bunny's Love Shack or Melissa Frances' Fresh Twist. Can't wait !!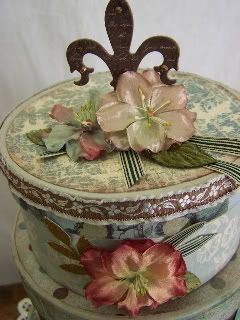 Quick !! Go make something ... and be delighted with YOURSELF !!!