Well, its been a bit of a tired week ... time change seems to have kicked my butt !!I find I have been up until 1:30 or 2:30 every night because I am not tired ... it seems too early. But, I sure am tired the next morning !!! YIKES !! It should level out by next week. Or I will move to Saskatchewan.
And it has been a worrisome week. My Gramma is really not well. She had a heart attack & has been in the hospital. Today they may release her - which should be good news. But it isn't. It's a matter of them not being able to do any more for her medically because she is so frail so they technically can't keep her. So home she goes although they fully acknowledge that she can't be on her own. Maybe never again. But the doctor simply says "I don't get involved in that." Sad. So it all rests on my poor aunt, because this is in Alberta, to find a solution. It's a hard situation and I hate being so far away. A late night phone call every night has kept us all up to date but it doesn't come close to holding her sweet loving hand. I may go out when she gets a bit settled somewhere. But now we wait.
So ... my creative mojo has been a bit stifled but I want this to be a happy post so ... I have a few pictures.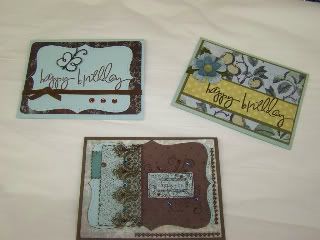 These are a few cards I made with left over paper from the hatboxes ... and I still have a ton more !!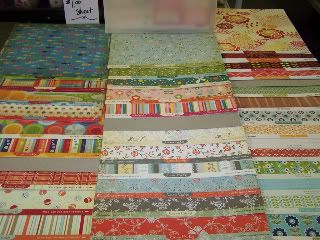 This will make ANYONE happy !!! Look at all that SWEET paper !! Cosmo Cricket - I love ya !!
And a few happy things :
1. I battled my old cat this morning for control of my breakfast ... and I won. Sort of.
2. The sun is shining !
3. Have been spending a little time with my pal Deedee - that is happiness in itself.
4. We found more wood - HALLELUJAH !!! ( we had about 3 hours worth left ..)
5. I have a new Cricut cartridge.
6. I am ready to open the doors at the store - gotta go !!
Have a great day & please send a little wish to the forces of good for my Gramma.