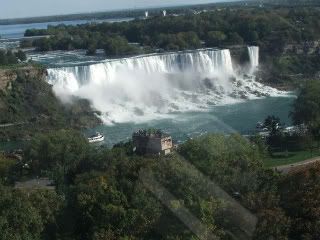 ( This is the view of the water behind our house ... spring run off ...
haha ... kidding ...
Actually it is one of my favourite places - Niagara Falls - taken from the Big Wheel)
Not much new to chit chat about but I need to change the first thing you see from that burnt out house ... gloomy. Today is Saturday - our "littleday" - because we only work for half the day. And today is a SUNNY Saturday ... SWEET ! So ... what will we do ??? Not sure but it will be great whatever it is.
Here are my plans/goals/wishful thoughts for this weekend:
1. Finish 70 ______. Sorry but I can't say what in case you are a PAAT participant. But this is a real GOAL , not wishful thought. I NEED to finish because my mind wants to move on to something new !!
2. Go to Pearls. No need to explain that one.
3. Make some cookies for Charlie.
4. BBQ - every night - I sense burgers and then pizza in my future ...
5. Get some samples done for the store .
6. Get some classes ironed out , samples made, supply kits costed out, photos taken, blog started. ( yeah, this is just a small item ...)
7. Clean out the fridge - eewww.
8. Clean out the pantry ... how many bottles of mustard do we need ???
9. Buy a nice Xsmall sweater for my incredible shrinking Gramma. None of her clothes fit her any more.
10. Watch a good movie. And I mean a GOOD movie. We have wasted too many movie nights with BAD movies. The last one was AWFUL !!! ( Blindness - in case you want a warning!!)
11. Groceries. Laundry. The usual.
12. Bookwork ... I'm sure I'll put this one off ... I need to feel the hot white heat of a panicky deadline !!!
Oh, last night we had a great night. Dinner with the pals for Steven's birthday, then off to YukYuks ... too funny ! I LOVE to LAUGH !!! Great way to end the week !
Have a super weekend !!