I blog through blurry eyes today ... last night was a late one ! I had a meeting and then "deliveries" on the way home. Then casseroles to make & a ton of little things to take care of. As I put the casseroles in the fridge & turned off the lights at
2am I realized that I hadn't done laundry ... hoped the clean underwear fairy would come ...
But today ,she had come so I was lucky !!! And I still have the stretched-out bad-elastic pair that signifies that LAUNDRY MUST BE DONE , so I am good for another day !!
But, on to the recovery update ...
Saturday was not the day ... we did our usual Saturday ... groceries and then home to doze off ... seriously ! I have become a fall asleep reading person on Saturdays. Even though I stay home a day a week, I am still working ... doing kits or samples or bookkeeping ... so I still have a 6 day work week albeit that some of it is in more relaxed surroundings. But by the end of the 6th day, when I am locking the door at work Saturday afternoon , I am DONE !! POOPED !!! OUT_OF_ENERGY !! So Saturday was not a day of any greatness. As usual !
BUT SUNDAY ... oh yeah ... that was a sweet day. It was sunny & above wood-fire-frenzy temperature. So we came to town ... did all the cat chores ( like a farm almost !!) and set off. Detour for an emergency stop in New Minas & new windshield wipers & the blue stuff that you use with them ... and we were off !! Off to Halifax. Off to find the wonderful tea I have been searching for as well as silicone coated kitchen tongs (the pink ones !!), great books, some cool stamps, a few awesome tools, and anything else. Well we had 7 stops in mind and 4 hours so ... we scratched 2 ... had to ... it was GO GO GO HURRY HURRY HARD !!! But it was good. And I did get about half of my list which is far more than I have achieved around here. Add a great dinner at the Athens Restaurant and I would call the day a success !!
Step 2 : CHECK
So on to Step 3 ... the ALL-DAY-CRAFT-O-RAMA ... sort of ... I did finish off a FRIENDS album and cover a HOME album. I started a few pendants and planned another couple projects. So it wasn't the BIG session I had envisioned because it was squeezed in around work, heating challenges ( I suck at wet wood burning !!), and plumbing challenges ( I am good at not going to the bathroom ... a great skill I'm sure !) But it was satisfying ... and you have to be happy with what you can get so I would say ...
STep 3 : CHECK ... B-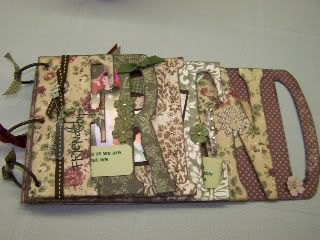 My FRIENDS album ...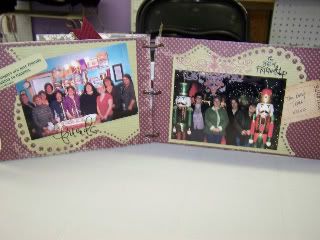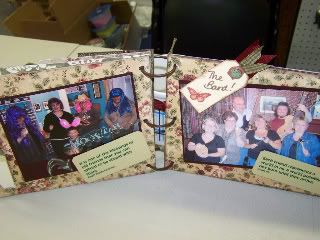 So hopefully the recovery is on and the slump/pity party is over !! Now to get back to all that laundry and other things ...