They all seem to be flying by in a BLUR. I cannot believe that it is the 3rd week of August already. I try to think what I did each week ... and sometimes I can't think of anything ... but in actual fact it has been VERY BUSY !! There is so much every week that it all blends together in a big state of busy & satisfying & fun & adventure filled & jam packed ... and sometimes packed with jam ...
So this past week :
* I made MORE jam ... another batch of wild cherry and then - my own concoction -
CHERRY CHERRY BERRY GRAPE. I had 1 cup of wild cherry juice, and 1 cup of chokecherry juice. Hmm... not quite enough. So I checked the fridge ( threw away the moldy cherries ...) and found Corinth mini grapes. Threw them in the pot. But I needed more ... ah ! the 1/2 pint of raspberries. So in they went to. I boiled & dripped , then added it to the double cherry juice. It is the most beautiful scarlet colour jelly with a fabulous flavour ... have to write that one down !!
* Last week's baking : Chocolate Buttermilk cake with Whipped 7 Minute Fluffy Frosting. Pretty yummy.
*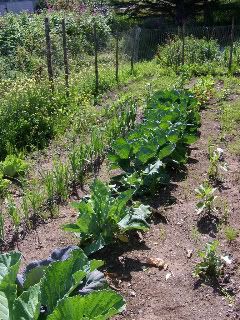 more garden stuff. Picked my last broccoli which my little cat Vern tried to devour in the sink. He also eats all the tops of the radishes , yes, the tops. UGH!
Also ... my peaches !!! We just planted this tree in the late spring ... (after they were marked down because we are bargain hunters !!) And look at the peaches !! And they are super sweet and delicious !!! Oh my ... peach heaven ... too bad there are only 20 but not bad for Year One !!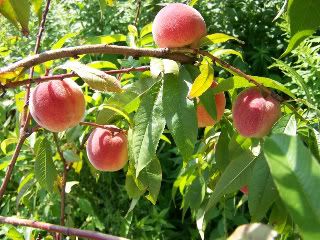 * made cards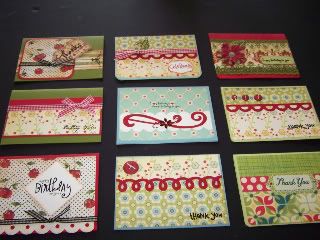 You can see more at www.classichobbies.blogspot.com
* we built "something" out of metal, used a bender, it's big, ... can't say much more because it is a SURPRISE !!
* took our poor Emma cat to the vet. She was feeling a bit "poopy" but seems to be better after the healing touch of dear Dr. Teresa.
* AND ... I have been visualizing the kind of jewelry that I really want to make. I have seen it in my head for a year or more ... yet, it never makes it out of that very head. Yesterday I DID IT !!! I made the jewelry that I have been wanting to make. And I LOVE it !! I am so glad I finally decided to give it a try. Do you ever do that ... just carry an "art dream" in your head, never letting it out ? Well, I can tell you, LET IT OUT !!! It feels so darn good !! I still have some clasps to add etc... but will post pictures of the finished product soon. Now on to my next "dream jewelry" idea !!