I just looked back at the last few posts. They go something like this ...
I baked ________.
I made ________ jam.
I picked __________ from the garden and it was the best ever.
I piled _____ (insert #) of cord of wood.
I made ______ of paper/beads ...
WOW !!! It might be important to me but I think it is a bit boring !! Like a form letter. That really sucks !!
You see I am on a quest to be the next Martha Stewart/Pioneer Woman of Port George so my week is pretty busy with all the above. And then we work 6 days a week. But we do actually do other things. Just can't think of any ...
No I'm kidding !! This past week we went to see that great Canadian folk icon STOMPIN' TOM !!
It was really fun ... felt like I was 12 belting out "Bud the Spud" and my personal favourite "Ketchup loves Potatoes". He was funny as was his Country Cowboy co-host. I was a bit less than enthralled by the country cowboy songs but that is just my NON LOVE for country music. Tom I consider to be folk not country. Anyway, it was great fun. And watching the somewhat rowdy ( yep, rowdy !) crowd was pretty funny too - a really odd assortment of people !
Then this past weekend we went camping at a nudist beach. it was pretty hot ... OKAY !! I AM KIDDING !!! I HATE CAMPING !!!
Here are the necklaces I have been working on ...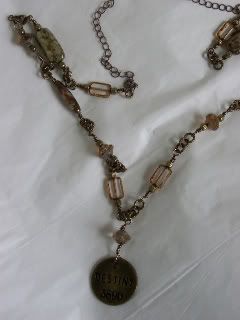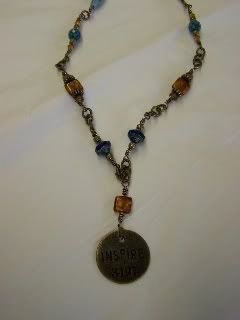 Yesterday Hester the Hearse went to be painted. I am SO EXCITED !!! Next week I will have GREAT PICTURES !!
Anyway... in the future I will keep it more interesting ...
Have a super week ... and do something exciting ... or make it up if you don't (that's what I plan to do ...)