This weekend we took two friends of ours to the Evans Family Corn Maze ... and it was amazing !! SOoooooo fun !!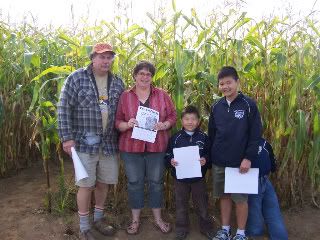 We spent about an hour and a half in the maze collecting our stamps. We collected the same stamps several times ... but eventually we found all six and were then able to find our way out !! It was great fun running down the paths, finding the stamp mailboxes, coming up dead ends, and crossing paths with all the other "mazers". We then had a wagon ride around the farm, did the little hay bale maze, and played in the "cornbox". It was a great way to spend the day !!
In the words of my maze partner Brandon
"This was the funnest day ever !!".
What more can you say ?
It was a great weekend all round ... We did some of our favourite things & fully enjoyed ourselves. That's what life is all about isn't it ?!
Here are a few things we did ...
* went to
Jonny's
in Berwick for a
Sweet Maria Burger
. This takes a hamburger to new heights ... grilled pineapple, local bacon, homemade mayo, and thai chile sauce. MMMM yum.
(oh, and maybe a side of the crispiest yummiest sweet potato fries ever ...)
* found some great new
Somerset Magazines
. They truly are my crack !! I love them. Drool over them ...
* visited all the
farm markets
checking out the produce and getting a huge bag of
apples
. A fall ritual !
* built a
kitten house
for the little family outside.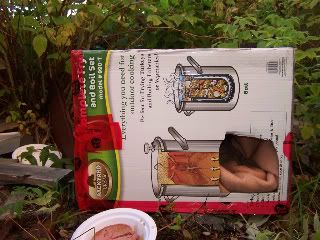 Our cat Vernie had to try it out first !!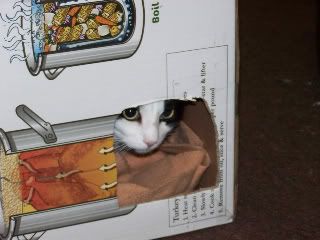 In human life we say life is sometimes a pressure cooker ... I guess in the cat world it is a Turkey Cooker !!
* harvesting
my garden
. I picked beets, early turnips, broad beans, celery, Brussels sprouts, tomatoes, radish, leeks, red onions, and red cabbage. Not bad !!
* just relished the
sunshine,
our
wonderful friends
, our sweet funny snuggly
cats
, the funny little
kitten family
, the beautiful
Annapolis Valley
, and life in general. How sweet it is !!
Well, I just received a BIG box of the best looking paper, stamps, bling, etc... to unpack so I gotta go !! Have a great week !!
P.S. Merrilee ... here is a picture for you ... this is Baby Batman ... a bit blurry but they aren't yet the posers our house cats are !!