Oh,... after this weekend I am a bit afraid that I am turning into a redneck... yes, really.
My whole weekend revolved around metal, motors revving, grease ( on cars & on my food), smashing & crashing. AND I LOVED IT !!!!!!
We went to Digby on Saturday for the Wharf Rat Rally. It was awesome - even better & bigger than last year. We ran into friends - old & new.The weather was amazing. All the bikes ... all the skulls... all the beautiful design. Loved it. I am not a "biker wanna-be" - not really interested in having a bike BUT I love the design, shape, ornament, paint, EVERYTHING about them. They are beautiful !!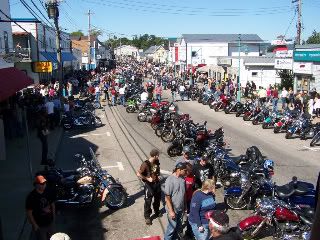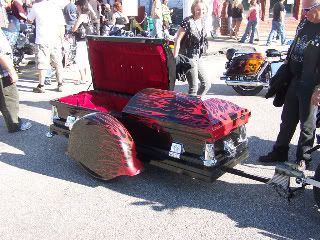 And , well, for the last 5 months I have been carefully eating whole grains, fruits, veg, etc ... but on this day it was Beavertail (ooo, deep fried dough ...), homemade potato chips, and ice cream. We went to visit friends after the rally and made it home for supper at 11:30pm. So ... cheeseburgers it was !! Nothing clean about that eating !!
So the next day it was up bright & early to hit the farm market for pickle & jam ingredients on the way to ... BASH FOR CASH !!! Oh , now that was awesome !! Cars smashing & bashing each other, fenders flying, tires exploding, ... well I could feel my inner redneck clawing its way out. And I could hear her too ... she was letting out some big screeching "Wahoos" ... hmmm ... I think I am becoming a redneck because my thoughts now are how much I would like to do it next year !!! WAHOO !!!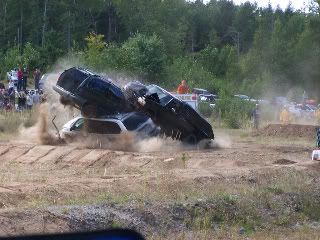 Anyway, it was an absolutely glorious jam packed weekend and I loved every minute of it. I vote for a long weekend every few weeks !!
Today I am SUPER busy trying to unpack another 4 boxes of wonderful stuff AND getting used to my new BIFOCALS !!! Maybe now I can bead & cut paper without using 2 pairs of glasses at the same time !!