Another whirlwind week... busy busy ... but oh so fun. We worked hard, played hard, gardened hard ... wonderful !!
Here are a few quick highlights ...
* got my tickets to see the GREAT CANADIAN FOLK ARTIST ... STOMPIN' TOM !!! WAHOO!!
* we bought fruit trees last night ... ready to start our orchard !!! Cherry, pear, peach, and 4 kinds of apples.
* made this ... love it !!! ( you may remember the "no modesty" thing.)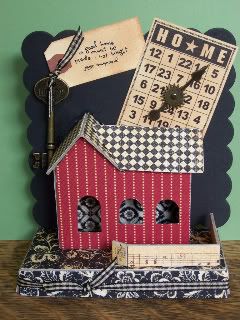 * made this quite a while ago but have made up some kits for it. Love it too !!
* planted more ... Roma beans, green & yellow zucchini, broad beans,buttercup squash, scalloping squash,beets, spinach, snow peas, snap peas, yellow boy tomatoes, plum tomatoes, parsnips, radish, more celery, more red onions. Now we just have lettuces,cucumbers,more squash, green onions, ... I think that's all ...
* Morning Glory cookies ... yum ! Plump cookies filled with raisins, apples, carrots, coconut, pecans, cinnamon, orange, mmmmmm ... but when they came from the oven they seemed to be begging me for something. "What was that ?" "You want cream cheese icing?!" "Well ... why not !?" oh ... so good.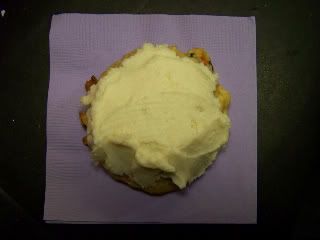 * an afternoon with Deedee, a Bead & Eat with my pals, a visit with Anne's sweet puppy Bella, a Baltimore Oriole and a Cardinal sighting (birds not ball players), the first shoots of squash plants struggling up through the earth, fab sunsets almost every night, cat cuddling, a day just "makin' stuff",finding a GOOD anniversary gift for my beloved ( OF 24 YEARS !!!) wow ... a FAB week once again !!