Okay ... is it really going to be JULY in a few days ??? How ? I cannot believe that it is already month 07 ... wow, where has the time gone ?? And here's a little secret ... I still write 2008 on my cheques... I don't even have the right year !! SHEESH !!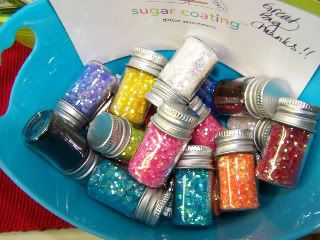 (Sorry ... a bit distracted by all that great sparkle ... chunky glitter ... oooo)
But the time continues to fly by so I will just have to take every one's word for it ... !! This past week has passed in a busy blur.
Monday was our anniversary and we had a wonderful dinner at Pasta Jack's.24 years !! Next year we are planning a big party ... why not celebrate 25 years of happiness by creating a bit more ??!! Bring on the BBQs , cotton candy, dancing monkeys ... we are going to celebrate !
I spent the days I wasn't open ( and a few HOT STICKY nights) redoing the scrapbooking part of the store. It seemed chaotic to me. ...no rhyme or reason ... and there wasn't any - I just made room for stock when it arrived wherever I could. So I stripped it all out and re-organized. It feels so much better now. This week I am tagging & labeling it all. I am really happy with it. Now where to put the two orders I have coming this week ... ( haha! I actually built in space for some of that stock... I am getting smarter!)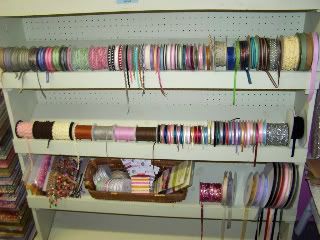 My ribbon all in one place ... finally !
My paper all together ... also FINALLY !!!
A little "FLEA MARKET " table ... full of sweet goodies !
Then there was the usual ... garden, groceries, house, feeding ourselves, cats, work, more work, more gardening, all good.
Thursday we had a great treat here at the store... but sadly no pictures to share of it. A mother duck and NINE babies ( I originally thought eight but no ... 9 !) walked across my parking lot, right along the front of the store, around the steps, and off across the next door lot. Soooooo cute !!
Another highlight was watching Gran Torino ... oh my god ! My heart was so full at the end of that one. AMAZING MOVIE !!! I LOVED IT !!!
This weekend was full of shopping, visiting, gardening, a cook out on the beach with family, tales of a 3 legged beaver, oh, so much !!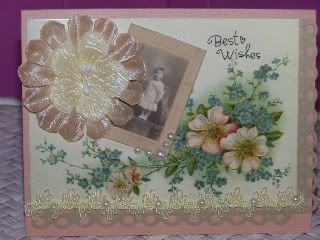 ( a little card I made with a Melissa Frances Post Card kit )
Now I am on to another week ... one with a holiday right in the middle ... how great is that ?!
Enjoy Canada Day ... and be happy and grateful that we live in such a wonderful place !
P.S. The fence that we didn't get done ... oh well, all in the fullness of time !