THIS IS SO EXCITING !!!!! We have a new car .....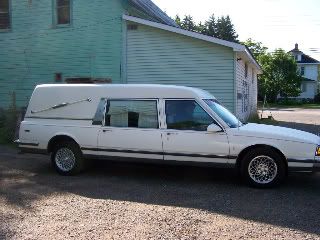 It's a hearse !! We saw it last week and I suggested that we go check it out ( I wanted it !!) on Friday after work. We got there & it was gone ... I felt sick. Tried again Saturday .. gone. So we called Monday and the owner had just been driving it for the weekend. So we made arrangements to go see it RIGHT AWAY after work and bought it an hour. We drove around happy as can be!! It is now going to lead a happy life ... weekend outings, ice cream at Perle's, parades ... It goes in a few weeks to be painted black with lovely crow foot flames. We are now on the hunt for a chrome skull for a hood ornament and a few other goodies. It will be a FAB pimped up ride !!! I LOVE IT !!!!!
We will be adding a seat in the back so we can take friends with us. let us know if you want a ride !!