Canada Day was WONDERFUL !! We started out wearing our new Canada day t-shirts...
We had no plan but as we drove to town, we heard on the radio that Kentville was having celebrations so that's where we went !! It was great ! There was a really fun band and a super farmers' market. We bought lots of local organic veggies, ran into Taryn & Macy the Blog Dog (got to meet her in person/canine - cool !!), had a great international lunch of samosas, Asian veggie rolls, and steamed pork buns. Yummy !
And I bought this FAB fish !! It is made of a pop bottle and is so fun. It hangs out in our back porch/cathouse. LOVE IT !!!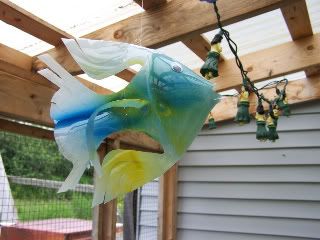 Then we meandered off to Wolville, stopping here and there. A basil plant to replace the one killed by "The Mighty Wind", some BLACK radish seeds, yellow beets, a bag of new potatoes,just fun & relaxing... Stopped for a flat of strawberries - $1.50 a box ALREADY PICKED !!! WAHOO !!!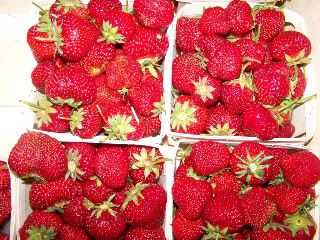 We headed for home but saw another farmers' market in Kingston and had to stop. Local pork found its way into the cooler . A taste of local wine. And ...oh my ... a coconut danish ... oh soooo good ! If I was going to splurge I am sooo glad it was on THAT !!! Buttery, flaky, coconutty, oh bliss !
So our Canada Day dinner was barbequed pork chops, grilled local beets & carrots, steamed local snow peas, roasted new potatoes, and local pear wine- all out on the back porch under the awesome fish ! It was just a great meal after a great day.
I finished the day by making ruby red freezer jam and will make cooked jam tonight.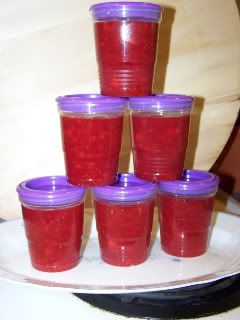 This seems like just a real Canadian day - loving life, eating local, enjoying our small towns & people, just ALL GOOD !!
ROCK ON CANADA !!!
P.S. JILL ... I HOPE it was the same beaver ... I hate to think that there is a band of 3 legged beavers roaming the town ... YIKES !!!